Description
Games: The Red Dragon Inn Allies Halden the Unhinged Expansion Deck
(This needs the rules from one of the main 1-7 base sets to play) or at least another expansion and a download copy of the rules (See Below)
Core Set: Red Dragon Inn 1 (However all Games act as stand alone games apart from mini expansions)
Manufacturer: Slugfest Games
No of Players: 2+ (Limited only by number of decks – this set has 4 decks)
Playing Time: 30 to 50 Minutes (30 mins + 10 mins per additional player beyond 2)
Minimum Age: 12+
Release Date:2015
Games: The Red Dragon Inn Allies Halden the Unhinged
About the game:
Halden is a totem-summoning shaman with an undying amount of work to do – his ghostly clientele provides him with plenty of unusual quests. Adventuringfor the dead will take its toll on anyone. After all, wouldn't you be a little off-kilter if you had to listen to restless spirits with unfinished business?
The Good: Halden can draw on the wisdom and power of countless lifetimes.
The Bad: His totems would like to remind you that he isn't making up the voices in his head.
The Red Dragon Inn: Allies – Halden the Unhinged brings a totem shaman to The Red Dragon Inn. Will you be able to master chaining his totems to maximum effect, or will your totem combos whimper? Take this off-kilter adventurer for a spin and find out!
The Red Dragon Inn: Allies is a series of expansions for any standalone The Red Dragon Inngame. Each Allies set includes a single Character Deck, plus components to add a brand new character to your game.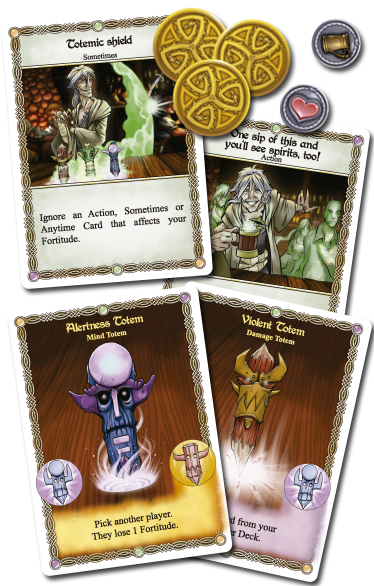 Get the Rules Here: RDI:A Halden Rules (PDF, 2 MB)
Review all the game and expansions or add your comments here:
Manufacturers Page: 

About SlugFest Games
Their mission at SlugFest Games is to provide good clean fun that is dripping with theme. They strive to make games that are easy to learn and quick to play, with a depth of strategy that is learned through playing. If you love humor paired with solid mechanics, then check out their games.
Want to know how to play the game?  
Check out this great review courtesy of TeamHypercube: