Description
Games: The Red Dragon Inn Allies Wrench The Lizard Expansion Deck
(This needs the rules from one of the main 1-7 base sets to play) or at least another expansion and a download copy of the rules (See Below)
Core Set: Red Dragon Inn 1 (However all Games act as stand alone games apart from mini expansions)
Manufacturer: Slugfest Games
No of Players: 2+ (Limited only by number of decks – this set has 4 decks)
Playing Time: 30 to 50 Minutes (30 mins + 10 mins per additional player beyond 2)
Minimum Age: 12+
Release Date:2015
Games: The Red Dragon Inn Allies Wrench the Lizard 
About the game:
Wrench is a kobold artificer who has always been interested in gadgets and engineering. His voracious appetite for learning led him to the writings of Wizgille the Tinkerer, and eventually, to study with Wizgille herself.
The Good: He can quickly build gizmos that can do amazing things.
The Bad: Those gizmos are very fragile!
The Red Dragon Inn: Allies – Wrench expands the party at the Red Dragon Inn with an ingenious kobold whose gizmo cards stick around to help him out on later turns! Those gizmos will gradually break down, though, and the other players at the table can cause them to break down even faster!
The Red Dragon Inn: Allies is a new series of expansions for any standalone The Red Dragon Inn game. Each Allies set includes a single Character Deck, plus components to add a brand new character to your game.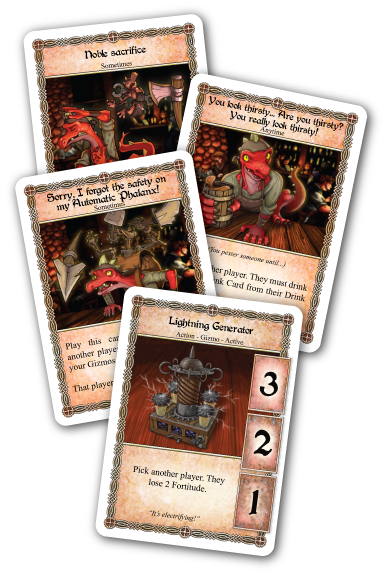 Components:
40 Card Character Deck
1 Player Mat
12 Gold Coin Tokens
1 Alcohol Marker
1 Fortitude Marker
Gizmo Tokens
Rules Document
Get the Rules Here: 
Review all the game and expansions or add your comments here:
Manufacturers Page: 

About SlugFest Games
Their mission at SlugFest Games is to provide good clean fun that is dripping with theme. They strive to make games that are easy to learn and quick to play, with a depth of strategy that is learned through playing. If you love humor paired with solid mechanics, then check out their games.
Want to know how to play the game?  
Check out this great review courtesy of TeamHypercube: