Description
Games: The Red Dragon Inn Allies Erin Expansion Deck
(This needs the rules from one of the main 1-7 base sets to play) or at least another expansion and a download copy of the rules (See Below)
Core Set: Red Dragon Inn 1 (However all Games act as stand alone games apart from mini expansions)
Manufacturer: Slugfest Games
No of Players: 2 (Limited only by number of decks – this set has 4 decks)
Playing Time: 30 to 50 Minutes (30 mins 10 mins per additional player beyond 2)
Minimum Age: 12
Release Date:2012
When you first meet this soft-spoken young elf, you might be surprised to learn that she's an adept adventurer; even more so that she's often fighting on the front line. But then again, you don't run into very many shapeshifting druids at the Red Dragon Inn…
The Good: Erin's always ready with a kind word and a healing chant to smooth ruffled feathers or mend wounded flesh.
The Bad: When the drinks start flowing, Erin can turn into a tree. Have you ever tried out-drinking a tree? It's not pretty.
The Red Dragon Inn: Allies – Erin the Ever-Changing expands the party at the Red Dragon Inn with a brand new elven shapeshifting druid, introducing new mechanisms that allow her to take on multiple forms throughout the game. She has to carefully manage which form she is in for the situation as being caught in the wrong form at the wrong time can spell for dire consequences!
The Red Dragon Inn: Allies is a new series of expansions for any standalone The Red Dragon Inn game. Each Allies set includes a single Character Deck, plus components to add a brand new character to your game.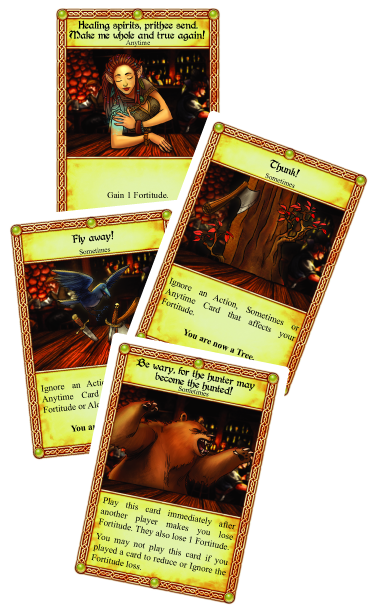 Components:
40 Card Character Deck
4 Form Cards
1 Form Marker
1 Player Mat
12 Gold Coin Tokens
1 Alcohol Marker
1 Fortitude Marker
Rules Document
How to Play:
In Red Dragon Inn, you play the part of a party of heroic, fantasy adventurers. You've raided the dungeon, killed the monsters, and taken their treasure. Now you're back, and what better way to celebrate your most recent victory than to spend an evening at the Red Dragon Inn. You and your adventuring companions will spend the night drinking, gambling, and roughhousing. The last person who is both sober enough to remain conscious and shrewd enough to hold onto his Gold wins.
To begin the game a player will start off by choosing a character deck.  These are fairly balanced with a mix of similar cards but each have their own flavour text and some unique cards.  Also some characters will have more of one type of a kind of card than another for instance 'Fleck' the bard has more gambling orientated cards.
Fortitude starts at 20. Alcohol Content starts at 0. Fortitude & Alcohol Content can't be more than 20 or less than 0. If Fortitude and Alcohol Content meet, you're out!
Card Types:
Action:Â Â Used only on a players turn
Anytime:Â Used whenever a player deems fit
Sometimes:Â Used in reaction to another event or card being played
Gambling:Â Special cards for use when engaged in gambling (Mostly Action cards to start Gambling, followed by others that are played in the sub game)
Each player takes a turn by
Discard/Draw Phase:Â Discarding, then Drawing (up to 7 cards in a hand)
Action Phase:Â Play an Action card
Buying Drinks Phase: give a drink from the drink deck to a player's Drink Me! pile
Drink! Phase: Drinking from one's own Drink Me! Pile..
The Drink Deck sits in the middle of the table, waiting for somebody to deal a drink to another player (Buy Drinks Phase). It consists of:
Low to high Alcohol Content drinks:Â These are simply Alcohol Content givers
 "With Chaser" cards: These force a player to take some Alcohol Content and then drink the next card underneath it as well.
Unique Drinks: Holy Water, Wizard's Brew, Coffee, etc. That have conditions
Drinking Events: As if the Drink! phase wasn't bad enough, these  drink cards actually call for the entire table to drink one or more drinks. The" Drinking Contest" is particularly destructive
Winning:  Game ends when one players Fortitude is reduced or drunkenness is high enough so they meet and Character 'passes out' or they run out of money and are therefore 'kicked out of the Inn'.
Get the Rules Here: Â RDI:A Erin Rules (PDF, 5 MB)
Review all the game and expansions or add your comments here:
 
Manufacturers Page:Â 

About SlugFest Games
Their mission at SlugFest Games is to provide good clean fun that is dripping with theme. They strive to make games that are easy to learn and quick to play, with a depth of strategy that is learned through playing. If you love humor paired with solid mechanics, then check out their games.
Want to know how to play the game? Â 
Check out this great review courtesy of TeamHypercube: